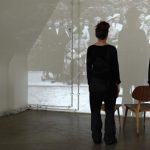 Vereinigung bildender Künstlerinnen Österreichs (Austrian Association of Women Artists) VBKÖ (Web)

The VBKÖ is pleased to announce that HAUNTINGS IN THE ARCHIVE!, a film by Nina Höchtl and Julia Wieger (A, 2017), is an official selection of the Women's Voices Now 5th Annual Film Festival, streaming online from March 8th-April 8th, 2018. This unique film festival amplifies women's voices and sheds a light on women's rights issues.
HAUNTINGS IN THE ARCHIVE! reflects on the hi/herstory/ies of the VBKÖ through its century-old archive of letters, photos, catalogs, and thousands of other documents. The film assembles the material to conjure up the specters of the multiple lives of the VBKÖ that share the scene in the film: Ghosts of National Socialism encounter colonial fantasies, as well as old and new feminist agencies.
Read an interview with Nina Höchtl and Julia Wieger on HAUNTINGS IN THE ARCHIVE! here.
Trailer of the film on Vimeo (Link)
Stream the whole film (1:12:25) for free here (registration required)