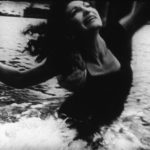 Österreichisches Filmmuseum: Reihe Amos-Vogel-Atlas (Web)
Zeit: So., 17.04.2022, 15:00 Uhr
Ort: Österreichisches Filmmuseum, Augustinerstr. 1, 1010 Wien
"Im Februar 1946 buchte die Regisseurin Maya Deren (Eleanora Solomonovna Derenkovskaya, 1917-1961) das Kino Provincetown Playhouse in Greenwich Village in New York City und zeigte unter dem Titel 'Three Abandoned Films' ihre Filme Meshes of the Afternoon (1943), At Land (1944) und A Study in Choreography for Camera (1945). Diese Aufführung inspirierte den aus Wien gebürtigen Exilanten Amos Vogel (1921–2012) zur Gründung seines Filmclubs 'Cinema 16'."
In "Female Subversion Is Here to Stay" werden Maya Derens Avantgardefilm-Klassikern Arbeiten der zeitgenössischen österreichischen Filmemacherinnen Sabine Marte und Mara Mattuschka gegenübergestellt.
In deren Anwesenheit werden folgende Filme gezeigt:
Meshes of the Afternoon. Ein Film von Maya Deren; Kamera: Alexander Hammid. US, 1943, 16mm, sw, 14 min
Ritual in Transfigured Time. Regie + Drehbuch: Maya Deren; Kamera: Hella Heyman; Schnitt: Alexander Hammid, Maya Deren; mit: Rita Christiani, Maya Deren, Anaïs Nin und Frank Westbrook. US, 1945/46, 16mm, sw, 14 min
Do we need to have an accident? Sabine Marte. AT, 2011, DCP, Farbe, 4 min
b-star, untötbar! Text-Performance + Film von Sabine Marte. AT, 2009, DCP, 3 min/7 min
You Come. Musik: Pendler; Video: Oliver Stotz. AT, 2007, 4 min
Step behind the ropes, please! nr. 2: Live-Performance von Sabine Marte. 15 min
Unternehmen Arschmaschine. Regie, Drehbuch: Mara Mattuschka, Gabriele Szekatsch; Kamera: Alexandra Brandt. AT, 1997, 16mm, sw, 17 min
Comeback. Ein Film von und mit Mara Mattuschka. AT, 2005, DCP, sw, 15 min
Die Reihe "Amos-Vogel-Atlas"
Amos Vogel hat sich Zeit seines Lebens der Suche nach Subversion im Film gewidmet. Nach der Emigration in die USA wurde er eine der wichtigsten Figuren der internationalen Filmkultur. Die Reihe Amos-Vogel-Atlas widmet sich der Weiterführung seines widerständigen Erbes parallel zur Beforschung seines Nachlasses im Filmmuseum mit Schwerpunkt auf Raritäten aus der Sammlung.